Weak and damaged hair needs some extra TLC.  You don't' want to wash it too much because the soap will be even more damaging to it, but that also means that you don't want to put anything too heavy on it because then you'll feel like you need to get the residue out.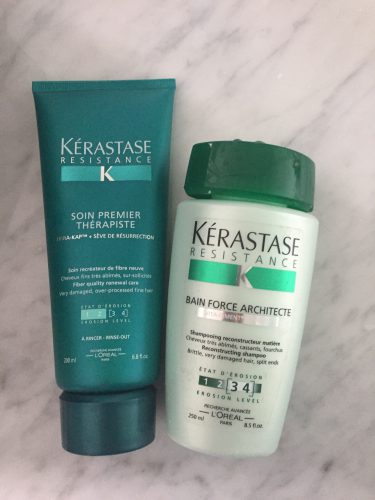 My find has been that the Kerastase Resistance line keeps all of this in mind, and actually gives weak and damaged hair just what it needs.  I'm using the Bain Force Architecte ($45) as my shampoo and the Soin Premier Therapiste ($48) as my conditioner. Both are light and gentle so that you clean and nourish your hair, but you're not weighing it down with product either.
The entire Resistance line has keratin protein, amino acids and wheat protein to help strengthen the hair and make it look and feel better.  It'll seal up split ends and not make hair so prone to breakage. The line is perfect for color-treated and fine hair, or hair that's been through a lot of styling and is ready to recuperate.  
Check out the whole lineup here, and find it at a salon near you.