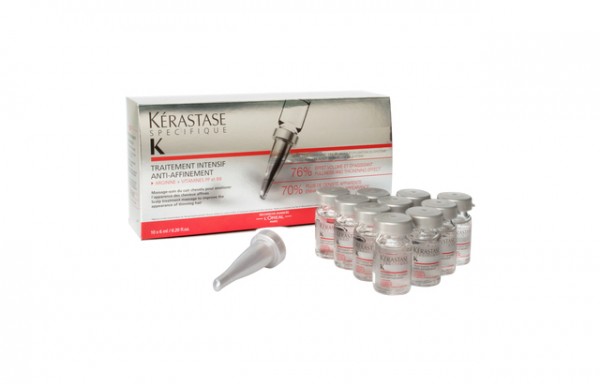 When my hair dresser told me about Kerastase's Traitement Intensif Anti-Affinement, and said that she used it on her own thinning patches, I had to try it.  The treatment is part of a line of products that all help to stimulate hair growth and have the active ingredient Arginine.
Now, don't expect miracles, but this product (and the entire line) does in fact work.
The premiere product in the line is this anti-thinning treatment which is a box of 10 vials that contain the treatment product in them.  Included is an applicator which helps you apply the treatment only to specific parts of your scalp – and only your scalp.  You then massage in the treatment (which gives a mild tingling minty sensation) and follow up with the spray (also for the scalp) which helps thicken the hair.
The entire treatment is part texturizing and part actual stimulation and all the products – shampoo, treatment, spray – help to help the hair grow and make it thicker and fuller.
So I've completed using my ten vials, and am still using the shampoo and spray and I've found that everything works so well together.  My hair fall has definitely slowed down, and the little bit of thinning that I experienced at my temples has pretty much reversed.  I can feel and see the difference – enough to know that any time I come across this problem again, I'm going to be investing in the 10 vials again so that I can stimulate some regrowth to my hair.
For those of you who have tried Nioxin – and I have too – I have to say that this works better.  Nobody was more surprised than I was, but this does work extremely well.  Again, don't expect miracles but expect to be wowed, like I was.
Pick up the treatment for $68 at your local salon or Kerastase.ca.  The shampoo is $38 and the Densitive Bodifying and Texturizing Root Spray is $43.