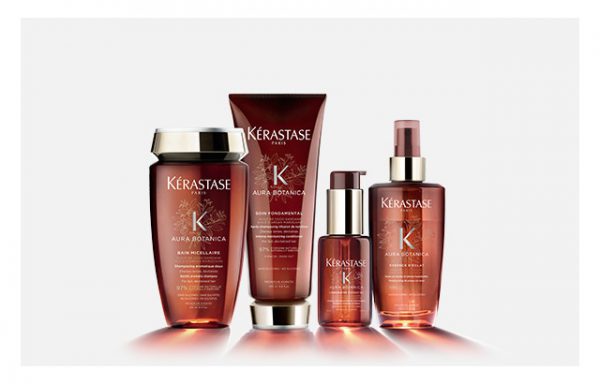 Aura Botanica is Kerastase's answer to the natural world of shampoo and conditioner.  They're known for being a brand that's really adamant that their product retains its efficacy no matter what, and that it consistently smells a certain way so that their consumers are immersed into using their products with all their senses.  When they decided that they wanted to make a line of products that was more natural – over 90% natural – they knew that they wanted them to smell good so they'd have the same Kerastase experience as all the other products, but also that they'd make your hair look and feel better.
Aura Botanica is unlike anything else from Kerastase.  The products are beautiful and work well together, providing you with healthier hair.  If you're into using products that are more natural, here's a salon brand that delivers.
The line consists of a shampoo ($45), conditioner ($50), oil ($60), and mist ($57).  The products are 96% natural.  They're silicone and sulfate free, and are only 96% natural, because the unnatural elements keep the fragrance and formula stable.
The shampoo is clear but very moisturizing.  You could almost use it without any conditioner because that's how gentle it is to hair.  It's definitely not great as a clarifying shampoo because it does add some moisture back into your hair, but if you have a lot of build up then you could shampoo twice, and that would do it for you.  The conditioner is thick, rich, and super creamy.  A tiny amount is enough for my long hair and I love that it emulsifies with water, but also sticks to my hair letting it soak in all the argan oil that it contains.  To really nourish your hair, you could add a few drops of the oil into your hair and that would make for an even more emollient conditioner. This does wash out clean, but it leaves my hair so nourished that I actually don't need any hair serum in it afterwards, cutting out the need to put more silicone in my hair.  It doesn't weigh my hair down but leaves it soft and un-frizzy, which I really appreciate.
The hair oil is meant to be used as a pre-conditioner or with the wash-out conditioner.  It is light-weight but does add noticeable grease into your hair, which is why it's a pre-treatment and best to wash out.  It does work to really nourish hair and keep the ends healthy and because it's an oil, you can also use it on your body or face.
The Hair Mist is a bi-phase oil, and is also silicone-free so it's best to use a little rather than a lot.  Two mists are enough for my long hair and it's better to start with a little and then add more as you style your hair.
Finally, you don't have to shop at the natural food store if you want hair products that are more natural – Aura Botanica is available at salons.