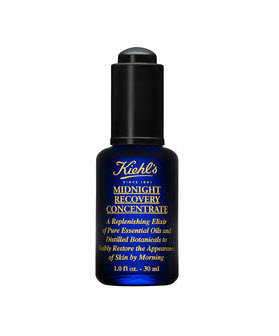 As a teenager, I thought Kiehl's Lip Balm No. 1 was the most glamorous thing ever and I carried it everywhere. I've had little experience with the brand's skincare since but their recent 10 Day Change Your Skin Challenge with Kiehl's fan favourite Midnight Recovery Concentrate just changed that.
The concentrate, formulated with evening primrose oil, lavender oil and (healing botanical lipid) squalene, is designed to restore skin overnight. Its promised results? Oh, just younger looking skin by morning. No big deal.
While it's certainly a seductive tagline, the product doesn't claim anti-ageing benefits like line reduction or skin firming. With Midnight Recovery Concentrate, it's more like less-tired equals younger-looking but I don't really relate to the idea of fatigued skin. Or the need for a product-assisted complexion boost in the morning. I guess seven solid hours of sleep on the regular is my beauty secret for a refreshed face.  (Oh, and avoid that second glass of wine at dinner.)  At this point, my arsenal for younger looking skin involves a fine-line fighter.
That said, I do use facial oils regularly and I like this one. The subtle lavender scent is a relaxing note to end the day on. The product is lightweight and absorbed quickly into my skin. I would definitely rotate this into my summer skincare line-up in place of a heavier oil like avocado or argan. If you're new to facial oils, Midnight Recovery Concentrate is a good introduction.
Find Kiehl's stores across Canada here.