I've been using the KonMari method on my beauty stash, but it's not going as well as I'd hoped.  I've started going through perfumes that I have held on to for years and years, forgetting what they even smell like because I'm constantly moving on to the next one. It's so hard to get rid of things.  I question whether they give me joy, but scents sometimes give you joy at a later time and you're just not aware of it.
In my stash was Kilian Back to Black.  The notes of this scent are: honey, sweet spices, smoky incense, vanilla, chamomile, cedarwood, and sandalwood.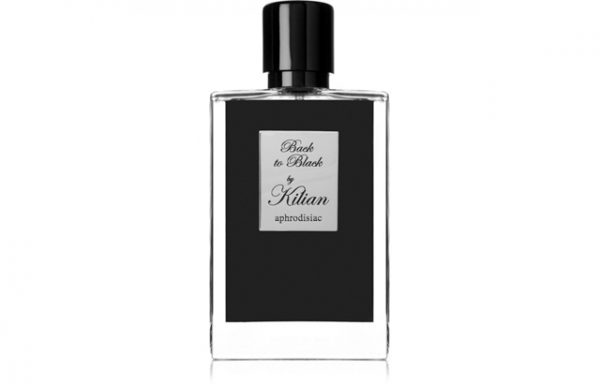 At first spray, all I smelled was the super sweet honey.  It was saccharine and musty just like real honey, and to be honest, I didn't like it.  I think honey is one of those notes that you have to be in the mood for, and this was just so unexpected.  I thought that I would be getting rid of this one.
But an hour later, my mind changed.  I can't get rid of this because the honey note went away and the drydown ended up being pure baby powder on me, which I didn't mind.  For a while, I was smelling honey and baby powder which made it seem almost like laundry detergent, but once the honey note dissipated completely, the fresh powdery notes of baby powder took over.  I know that not everyone will have the same experience when wearing this perfume, but it's interesting that Kilian classifies this as an aphrodisiac. I'm not sure how many people find the scent of baby powder an aphrodisiac, especially since that scent might be tied to… well.. Babies!  
As it happens, the smell of baby powder reminds me of my mom because she used it all the time, and of India, where people use it on their bodies to combat the sticky humidity of the summer.  That nation is so obsessed with powder that even laundry detergents and deodorants are scented with that, and babies are doused in it. When my mom saw all the unscented baby products I used to use on my kids, she said "Shouldn't babies smell good?  There needs to be a perfume to them!" She meant, of course, that they should smell like traditional Johnson's and Johnson's baby powder because all her babies always smelled like that. I just shrugged my shoulders, but years later, I smell the drydown of this perfume and love that it takes me back.
The longevity of this scent is amazing – the top notes of honey and vanilla last about an hour, and then the drydown of sandalwood and cedarwood last longer – pretty much the whole day.  
$395 for 50mL.  Available at Holt Renfrew.