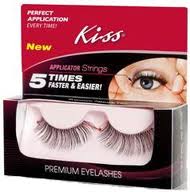 I've been experimenting with false lashes, and because I only wear them a few times a year, it's hard for me to get the hang of applying them properly.
That's why when I saw Kiss Eyelashes I was so excited.
Kiss Eyelashes come with their own application strings, so that you can line up the lashes to your lash line perfectly, wait for the glue to dry, and then take out the string. In theory, this is a brilliant idea, and it does work to place the lashes on your eye. I was able to get the lashes really close to the lashline and after getting then hang of it, I could places the lashes on the very first try.
The problem comes with the string that you use to places the lashes. The Kiss box says that you can gently pull the string out but it's not that easy! The problem is that the strings are rather stiff and are thin pieces of plastic rather than being true strings. Thus, when you try to take the lashes off, you risk the "string" poking you in the eye. Also, if you get glue on the little loop that's holding the string to the lashes, then you can't pull the string out at all and have to cut it off, risking cutting off your own lashes!
When I tried these lashes, it took me about 15 minutes in total to put them on, which is a new record for me. It usually takes me way longer – half an hour or so. However, at the end of the day, it was still 15 minutes wasted, because I ended up taking the lashes right off because I couldn't get the string to cooperate. I also went through two sets of lashes, and just couldn't make either set work which was really frustrating.
You can get Kiss lashes at Walmart. If anyone has tried these, let me know what your experience was!