So if you're new to the at-home Gel manicure, you'll want to read our other review first.  It details the entire process of an at-home gel mani, and how you can use the top coat in different way.
We're happy to report that you can also find an at-home manicure kit at Walmart and Target and it's by Kiss.  The system works essentially the same: there's an LED light that you cure the gel polish under.  Check out the picture of our final nail look:
As you can see, the polish is super shiny and if applied carefully it really does look like a professional job!  The box says that it lasts up to 2 weeks, but within 2 weeks there's such a significant amount of nail growth that we found that it was better to take off and replace the polish a little bit earlier than that.  The polish looked amazing for about five days, and then it either chipped or peeled off easily.
We also found that we needed three coats of the Kiss gel polish to get opaque coverage.  Otherwise, the polish was a bit see-through.
But in experimenting with this system, guess what we found out?  You can totally interchange different kinds of polish and use them with the same kit.  We used Orly gel polish with the Kiss base and top coat, and had pretty amazing results.
Take a look: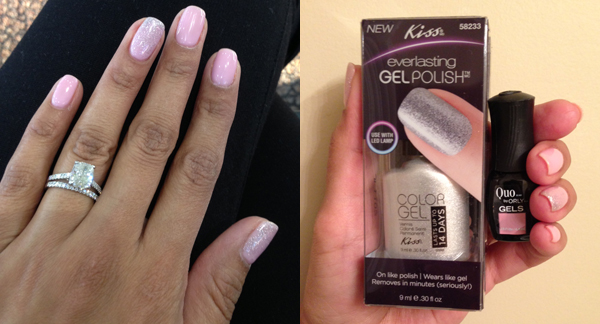 Finally, take a look at the white mani we did this summer.  Three coats and our nails looked amazing.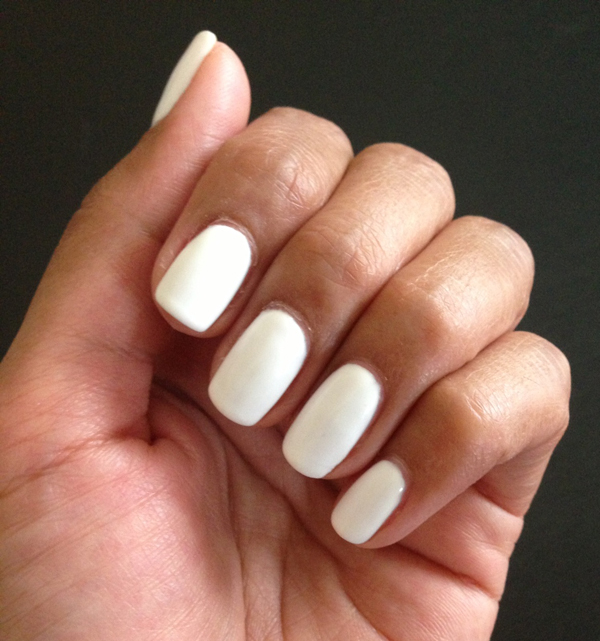 Overall, the system is totally worth purchasing if you really like the look of gel nails and need something that's really long-lasting and virtually chip proof until you decide to take the polish off.  Unlike regular polish, there is no tip wear with gel polish, and that's something that many people don't like.  If you do your nails regularly, it's worth the investment to get the polish, especially in the colours that you think you'd wear a lot.
You can find a Kiss retailer near you by checking out their website!  Quo is available only at Shoppers Drug Mart.