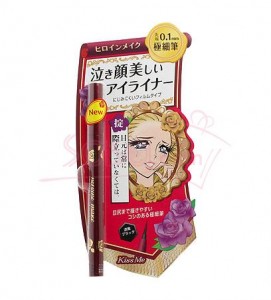 Let me introduce you to my favourite eyeliner of all time: Kiss me Heroine Make smooth liquid eyeliner.
Once upon a time, I was on a quest to find the perfect waterproof liquid eyeliner that would stand up to all the things I subject my eyeliner to: sweaty hot yoga classes, vacations in horribly humid places, 13 hour days… and alas, all eyeliners tended to flake, fade, or sweat off throughout the day.
My quest took me to Hong Kong, where I found, on a shelf one day, Heroine Make smooth liquid eyeliner.
It's an eyeliner that looks exactly the same at the end of the day, no matter what I've been doing. It doesn't come off even if I've been swimming or sitting in a heated yoga room. It doesn't matter if I've been crying, or rubbing my eyes.  And yet, it comes off easily at the end of the day, with a bit of eye makeup remover.
In short, everything you could ever ask of an eyeliner.
The applicator is a fine liner brush, but draws like a felt tip, which provides an ease of application that so many other eyeliners fail to do.
The only thing is, it does dry rather quickly, which can be a good thing or a bad thing. Good because it's not going to smudge everywhere when you blink, not so great if you like a bit of playing time with your eyeliners.
This can be found on Sasa for around $10CAD.