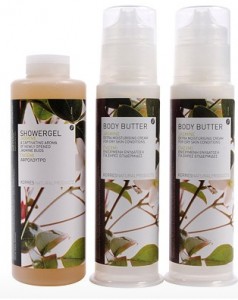 So, I have this thing for body butters.  They are rich and creamy and moisturize like nothing else.
And now I have found my holy grail of all body butters.  It came as part of the Korres Jasmine Body Collection, and I started using it because I love anything that smells like Jasmine.  This is the best body butter I've ever used.  It's lightly fragranced, absorbs like a cream, and just leaves your skin so soft and smooth.  The body butter is on the greasy side but it absorbs and moisturizes.
The body wash that came with the kit is good – nothing amazing, but it smells good and if you want a true Jasmine scent then you should definitely try it.
I got my kit from TheShoppingChannel.com.