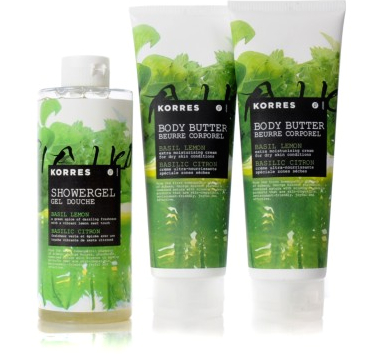 Korres makes one of the best body butters on the market, and this spring I've fallen for the Lemon Basil scent.  The body butters are a blend of oils plus glycerine so they absorb really quickly, and keep the skin hydrated for a long time.
The Lemon Basil is tart but toned down by the earthiness of the basil.  Because the scent is not feminine and very fresh, it's perfect for the whole family, so I've put the shower gel in the soap dispenser in my powder room and left the body butter there for guests to use as well.
The scent is perfect for the summer because it's not overpowering or too warm for the summer months.
I got two body butters and the shower gel from TheShoppingChannel.com.  It is the Bath and Body Jumbo collection and for just $38 it's comparable to what you might pay at the drugstore for these product.