I'm not a huge Twilight fan, so it's no surprise that I didn't see Kristen Stewart's makeover.  It's not that I don't like her – she was fantastic in Into The Wild and it's clear that she'll go far, which is why I'm so interested in how this self-proclaimed low-maintenance star has gotten a makeover.
The new hair is for the Joan Jett biopic that she's fronting, and the makeup for the 2009 MTV VMA's is courtesy of Beau Nelson.  Below is his how-to.  How do you all think she looks?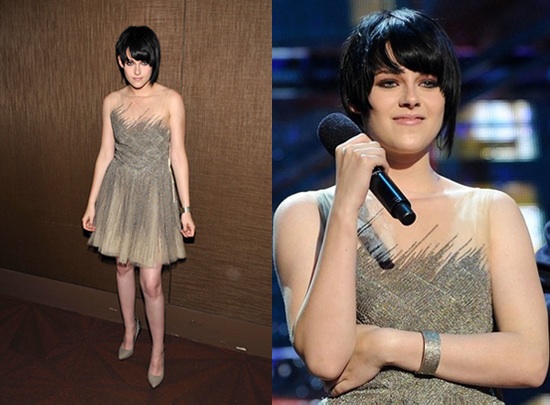 This was my first time working with Kristen, and I had a vision of her pale skin with burgundy smoky eyes, together with the hair stylist we decided on the dress after watching Kristen try on a few, we all felt the Valentino was special and different from what she has been seen in before. Kristen has been growing her hair out since her Joan Jett movie and superstar hairstylist and Pantene spokesperson Hallie Bowman from The Wall Group, decided to trim Kristen's bangs to make sure they were not too long and in her eyes, and to give them separation, she then used pins to pull back and up the back of Kristen's hair making her look like she had a much shorter do than she actually does.
Skin: I moisturized using Clarks Botanicals Marine Smoothing Cream, and used Korre's Primer. I then applied a mix of Flouron and Harlot Liqui-gel Stain from Beauté Cosmetics to the apple of the cheeks, using my finger tips. I used a little more than I really thought was needed, so that when I applied Laura Mercier tinted moisturizer in Nude over it that it would be muted and look like it were coming from within. I used Laura Mercier undercover pot #2 to conceal any redness and under her eyes as well. Once I was finished with that, I used Kanebo Sensai Loose powder to set the makeup and then applied Kevyn Aucoin the Sculpting Powder under the cheekbones and along the jaw line to define her face and cheekbones.
For eyes, I used Dior shadows in Stylish Move, over black pencil.
Mainly using the burgundy and deep purple shades in the quaint concentrating color along the lash line and blending out. I then applied black liner to the inner rim of the eye and curled lashes with the Shu Uemura 24K gold lash curler, then applied YSL faux cils mascara to lashes, top and bottom.
Lips were a pink-beige gloss called Medusa from Beauté Cosmetics which Kristen happily took with her to the show to reapply.