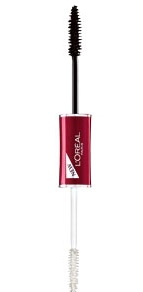 L'Oréal Double Extension Beauty Tubes Mascarahas been out for a while and it has really surprised me. I find most of these two-step mascaras to be generally the same, but not this one. It actually does what it claims to! This mascara does work just like any other two-step mascara except the results are much more dramatic. I don't know about having the power of salon-caliber lash extensions though, but either way you get a great dramatic lash.
The "tubes" that it is supposed to produce are really just a thicker application of the product which does have the effect of extending the length of your lashes. However, as described at length (pardon the pun) they only need water to just slide off of the lashes to remove, and do not dissolve off like most mascaras which require a remover. Yet it still has the staying-power of a water-proof mascara. This was one of the most impressive aspects for me, because it meant that there really is a conditioning layer (the first step in application) that is coating the lash before putting on the black, which is actually forming tube-like coats around the hairs.
Every time I use this mascara I feel like I discover something new about it and I just get better at using it. It's really awesome and different and worth a try.
$11.96 at Walmart and other mass merchandisers.