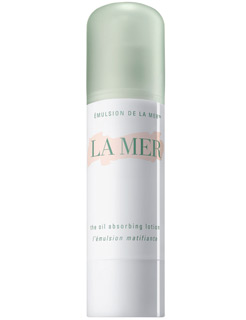 When you consider expensive skin care products, the line between need and want gets blurred.  This definitely applies to La Mer's The Oil Absorbing Lotion, because of course you need a product that can absorb oil, but do you need one that costs over $200?
What if it was the best oil absorbing lotion you've ever used in your life?
What if it could moisturize, and keep humidity at bay?  What if your makeup not only went on like a dream, but then stayed on because none of that oiliness was interfering with it?
I think that makes it worth it.
If you've used Creme de la Mer before, you know that it can be a tiny bit greasy (so much so that people think it's like Nivea), and that it's not always the best for oily skins.  But with The Oil Absorbing Lotion, you can have all the advantages of the La Mer Miracle Broth, which is packed full of nutrients and helps keep skin supple and refined, but none of the greasiness or over moisturization of the Creme.  Indeed, The Oil Absorbing Lotion sets to a matte finish, and continues to absorb oil well into the day.  It has the traditional La Mer scent which is lovely, and you can even use it at night – though I prefer to use something that's more of a treatment for my night time cream.
I think that if this means that you can skip your primer and any other oil absorbers you use throughout the day, then it's totally worth it.  A 1.6 oz bottle will last about 6 months, and you need just one pump (which deposits a teeny amount) for your entire face.  Pick it up at your local La Mer counter at Holt Renfrew.