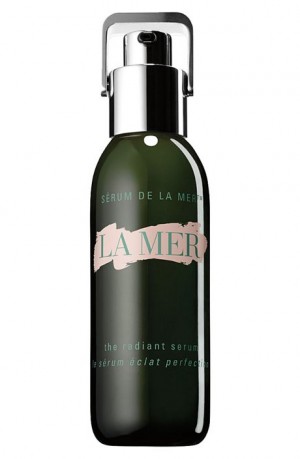 La Mer's latest launch is The Radiant serum which is meant for skin that's in need of some TLC because of scarring and hyperpigmentation. The serum claims to make skin more even and – well – radiant!
I was told that since I loved my AHA products because they leave my skin so smooth, I would love this as well and I would receive similar results with it.
The serum is quite runny so just a little big goes a long way on your skin. I noticed that it immediately had a tightening and almost drying effect on my face which I kind of liked. It absorbed excess oils and my moisturizer went on so smoothly.
They say that you should use this twice a day, but I've been using it just once – in the morning, before I apply an SPF to my face.
After 3 weeks, the result is really smooth skin and no breakouts. I also like that it absorbs the oils in my moisturizer so that my face isn't very greasy and that makes is great for applying mineral makeup.
To tell you the truth, besides La Mer's ocean water claims, I can't tell you what great ingredients make this serm to effective. It just works really well and makes for really smooth skin. It does retail for $250 for a 1oz bottle which makes it on the expensive side, but I think that the effects are worth it. If you can, head to a La Mer counter at Holt Renfrew and see if you can get a sample of this serum before you buy it.
I wouldn't say that it's a replacement for my favourite AHA cream, but it's found it's place in my skincare regimen.