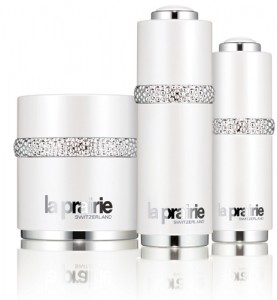 More and more lines are coming out with products that are meant to help with hyperpigmentation on different kinds of skins.  I think that the trend partly comes from our aging population, advances in science, and the fact that people who have done a lot of sun tanning are beginning to show signs that they've done a lot of sun tanning.
The best way to avoid hyper-pigmentation is to stay out of the sun and use sunblock whenever possible, but other factors can also contribute to skin producing spots that you would rather not see there.
That's why it's nice to see La Prairie's White Caviar Illuminating Systeme.  It's a series of 3 products: eye serum, face serum, and face cream that work together to help reduce dark spots.
All the products contain illuminating powders that help make skin look more vibrant.  Indeed, when I used the line, I could see that those powders immediately made a difference, and made my skin look better!  I also really liked the formulation of all three products.  They were light yet luxurious feeling, and all have vitamin C in them to help reduce spots on the skin.  I found this line to be especially effective on recent acne scars and I because it's so light, I could use it morning and night which meant that I had even better efficacy.
You can get the La Prairie White Caviar Illuminating Systeme at Holt Renfrew.