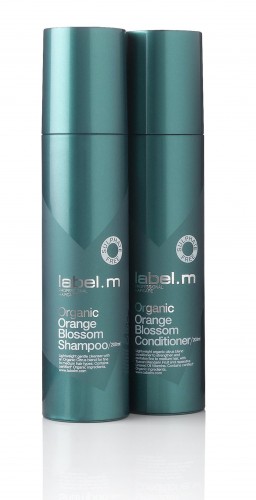 On my last visit to Toronto, I was introduced to Label M., a brand out of the U.K. This shampoo and conditioner is organic, sulphate and paraben free.  It's meant for fine hair because this hair is more prone to breakage than other hair types, and so the shampoo and conditioner promise to be gentle.
There's linseed and jojoba oil in the formula and no synthetic fragrances at all.  It does smell like orange blossom, but the scent is faint because it's natural.  Really, everything else in my shower overpowers this scent.
Though I really wanted to like this shampoo and conditioner, I have to say that it really did nothing for my hair. Yes, it was gentle, but it didn't give the volume that it promised, and I didn't feel as if it was really taking care of my super fine hair.
The shampoo doesn't lather well, which would be fine, except the directions on the bottle say to work the shampoo into a thick lather.  I felt like I used 1/4 of the bottle of shampoo to get this to lather in my hair.
The conditioner was nice and rich but nothing spectacular.  After I washed, conditioned, and then dried my hair, you certainly couldn't tell that I used a high end salon brand on it.  Really, this was no better or worse than the leading drugstore shampoo and conditioner.
Label m. is available at Salon Donato in Toronto, and retails for about $40.