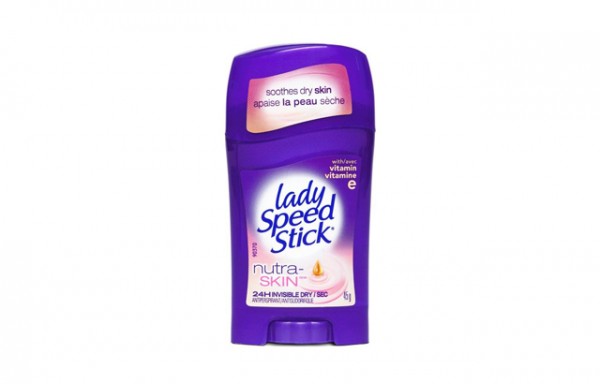 This has been the worst winter ever (and for some it's not over yet!), but we have to believe that warmer weather is on its way and with it comes some…unwanted effects such as the need for more (and better) deodorant.
Of course, the effect of using more deodorant can mean dry underarms, especially after a cold and dry winter.
New Lady Speed Stick Nutra-Skin takes care of odor while conditioning the skin. Packed with powerful emollients as well as Vitamin E, this deodorant is actually made up of 30% skin-conditioning ingredients, making the label Nutra-Skin completely fitting.
The worst part about wearing deodorant is the possibility that it could show up on your clothes. Not only does this lead to an outfit change but deodorant is possibly the most difficult thing to wash out of your clothes. The best part about Lady Speed Stick is that the formula is Invisible Dry which means that it's not going to show up under your arms or on your clothes. Pretty impressive for a product that has moisturizers in it since those can be potentially greasy and stick to your clothing.
What I found to really work for me is to apply just one swipe of the deodorant. I know I haven't written about deodorant in quite some time, but the more you put on, the more of a chance there is that it's going to end up on your clothes. Our zeal in application is probably due to us thinking that more will give us better protection, but actually if you've chosen the right deodorant you won't have to worry about using more – one swipe will be just enough.
Available in stick (45 gram) and roll on (50 mL) format for just $2.99. For more info, visit ladyspeedstick.ca. Save $1 on your purchase by downloading a coupon at SnapSaves.com.