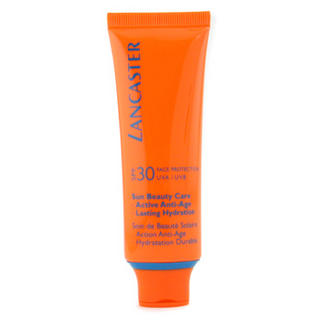 Lancaster is the company to go to when you're on the look out for a good sunscreen. Their normal sunscreens are so smooth to apply and don't have any whitish cast to them. Their Sun Beauty Care line has a range of SPF's and is designed just for the face.
As such, not only is the formulation still nice and smooth, but it's one that absorbs quickly into the skin so that you can follow up with makeup and the like.
This sunscreen does have a strong scent, but it fades within the hour. Those with an aversion to strong smells or really sensitive skin might want to avoid this because of the scent, but other than that, it's a sunscreen that many people would like to use.
Pick it up at Shoppers Drug Mart or your local Lancaster counter.