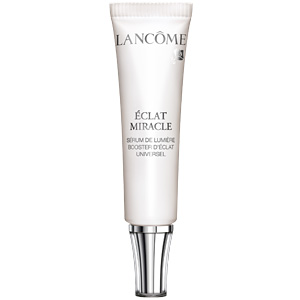 This winter has been super harsh on my skin and with the occasional dry patch showing through my makeup despite using moisturizer, I have been embracing primers in the hopes that they will make my skin look flawless and my makeup last longer, so over the next couple of weeks, I'm going to be posting my primer reviews!
First up is Lancome's Eclat Miracle which came out at the same time as their Teint Miracle foundation and retails for $40.
Truth be told, I'm not even sure whether I should be reviewing this as a primer, because Lancome is marketing it as a serum that you should use before your foundation. The texture of this is quite thin and liquidy, so it does feel like more of a serum. On the other hand, it has quite a bit of shimmer in it and Lancome says that you can use it just in the areas that you want to highlight. They also say that it provides 8 hour hydration, so perhaps they want you to use it all over your face! And of course, they say that you could use it under your foundation or mix it into your foundation, but no word on whether to use it before or after your moisturizer.
So! I have been using this after my regular moisturizer to give my skin an extra dose of moisture and to smooth out my skin before putting foundation on. The shimmer that this has is a silvery kind but it wasn't too shiny and I felt that I could pull it off, even though I do prefer a golden glow with my tan skin.  This would work on a large variety of skin tones.  I also like that it has the shimmer in it because after I put my foundation on, it gives me just enough glow and adds another dimension to my makeup!
As for using it as a primer, I do find that this adds longevity to my makeup.  At the end of the day, my blush and foundation was still in place and looking good, despite having a bit of a hectic day.
What didn't work for me was that it didn't provide as much moisture as they say it would, and I could see a couple of dry spots in the middle of the day.   So, if you have dry skin and want something to help cure that, this is not the place to go.  I have a feeling that this primer/serum is going to be awesome in the spring and the summer, but not so much in the middle of the winter.
You can get this at any Lancome counter!