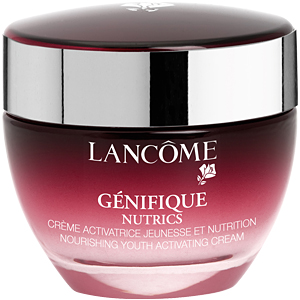 They say that as your skin gets older, it needs more moisturizer, and I have to say that I'm finding that to be the case!  Where I always used a moisturizer with some kind of AHA in it, this winter, I'm finding that I actually prefer to use a cream that's more moisturizing and will revitalize my skin.
A favourite has been the newly launched Lancome Genefique Nutrics.  I believe that at the moment this is only available in Canada, since I couldn't find it on the Lancome website.
Though this cream doesn't claim to have specific anti-aging benefits, they do say that's meant to provide a high level of moisture so that skin looks younger.  Of course, if your skin is moisturized, your wrinkles will show less and that's always a plus.
The thing that I love about Nutrics is that it's highly moisturizing and a rich luxurious feeling cream.  It doesn't get sticky or tacky on your face which means that you can really layer it on. It also smells wonderful – it contains Lancome's iconic rose scent which I now find so relaxing since I always use this cream at night time.
This is from Lancome's Genefique line which means that it uses Lancome's exclusive research with genes and proteins to make it work on your skin.  Lancome says that the formula "is enriched with a unique active that stimulates the production of proteins on the skin's surface essential in reinforcing the lipid barrier and characteristic of young skin."  What I basically gather is that it helps give your skin a layer of moisture that younger skin has, and I have found that to be true.
The cream does not come cheap: 50ml for $85, but it is definitely a high-end product because of the heavy jar packaging, the pleasant scent, and the creamy rich texture that the cream has.  It's hard to find a drugstore product that has all those things and can still moisturize without making you break out. I did find that this gave me long-lasting moisture and I woke up with more luminous skin because of it.
Genefique Nutrics is available at Lancome counters in Canada.