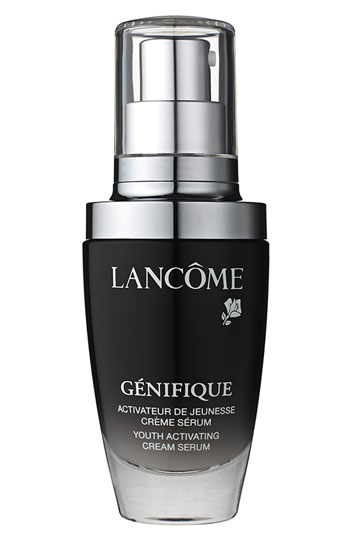 To be honest, I've had the Lancome Youth Activating Cream Serum on my vanity for a while, but I hadn't used it because I didn't want something that was so heavy.  And then winter hit, and I realized that my regular serum wasn't cutting it so I turned to this.
Lancome says that this is almost the same as the Genefique Youth Activating Concentrate (which I reviewed last year), but it has an added dose of moisture. They copy for this serum says:
"Discover the skin you were born to have with this intensively nurturing complex that restores the complexion's hydration potential, retexturizes, comforts, and nourishes for breathtakingly radiant results. Skin regains its youthful qualities: velvet-softness, resilience, and a lit-from-within, full-of-life look."
I definitely found the cream serum to be better than the original Youth Activating Concentrate.  The thicker texture felt like it stayed on my skin longer so it felt like it really worked. The cream serum is definitely more a cream than a serum and it has a silky smooth finish that absorbs into skin within a matter of minutes.  I also really loved how this smelled – fresh and floral which made it a pleasure to apply in the morning and at night!
I have to say that each time I used this I felt like my skin looked more luminous and clear.  If I used it at night, the results were even better than when I used it during the day.
One of the active ingredients is Salicylic Acid which helps get rid of dead skin, and that's the reason that this serum works so well for giving you radiant skin.
At $105 (Canadian) for 30mL this definitely isn't cheap – but it works so well and I would recommend it to anyone who wants real results.