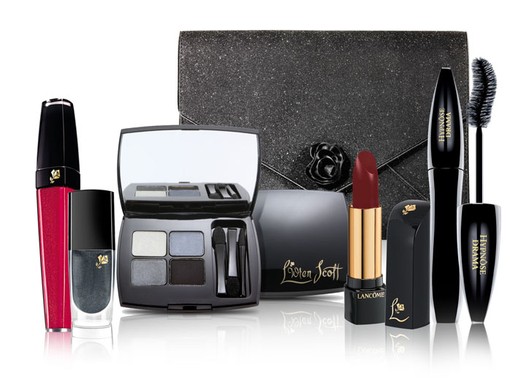 Lancome's 2010 Holiday Collection was inspired by L'Wren Scott and her signature is even on the eyeshadow palette that's part of this collection.
Usually, I'm so excited for holiday collections but I have to say that this collection didn't have that much of interest to me.  All the eyeshadows in the palette are quite cool and so I found them a little difficult to wear.  The medium grey wore more like a light blue, which I was not a fan of, and the white is useless to me as a highlighter.  I do like the black eyeshadow.  It is quite pigmented and works well to set eyeliner, though I couldn't use it on its own.
All in all, the signature doesn't have enough to compel me to buy this shadow compact, and there's nothing else that's really special about this collection.
What I really miss is Gucci Westman's makeup collections.  I loved what she used to design for Lancome and every collection had a special collector's item that I always wanted.  The makeup products were always top-notch but she always had a story to tell too.
In any case, Lancome's collection is on counters everywhere.