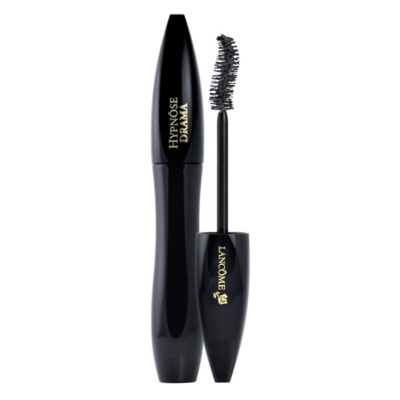 Okay, so Lancome's Hyponose Drama isn't exactly new news, but I was busy trying to use my supply of random Asian mascaras from my last trip to Hong Kong to pay all that much attention to it when it first came out.
But man, is this mascara great.
Yes, Lancome is pretty much the ruler of the mascara world, in my opinion at least. But this formula is great even for them. Hypnose Drama is a lengthening/curling mascara that has an S-shaped brush, which is presumably so that the mascara will coat every single lash. It's a lovely, rich black and smells pretty, unlike some chemical smelling mascaras. The volume can also be built with this mascara, as it takes more than a few coats before it starts to look clumpy.
The odd thing I've found with Lancome mascara in the past is that not all brushes are made equal. Even with the exact same type of mascara, you sometimes get a brush that goes blobby on you and picks up way too much product. The brush I got this time was good, but I thought I'd mention it anyway.
The Hypnose Drama, like most Lancome Mascaras, holds up extremely well for day to day wear, resisting smudging and even light moisture. It does come in a waterproof version as well, if you're worried about that though.
I have a bit of paranoia about my pin-straight lashes. Normally, regular mascaras just don't keep my eyelashes curled because the formula takes too long to completely dry, and weighs my lashes down in the process. This was not an issue with the Hypnose Drama, and while the curl didn't last for an entire day, it kept my straight Asian lashes curled for a good 8 or 9 hours.
For regular people, that translates to an entire day of perfect, long, curly and voluminous lashes. This mascara is not for the faint hearted, as it will give you that 'false-lash effect.'
Around $25 where Lancome products are sold.