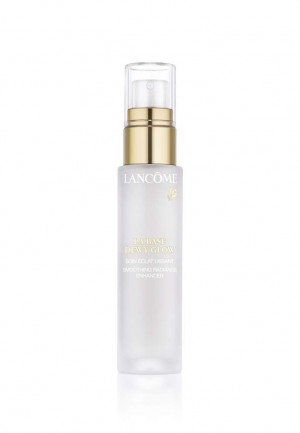 A long time ago, I was a wee bit obsessed with Caudelie's Beauty Elixer which was meant to revive and wake up the skin and complexion. Every time I happened by a Sephora, I would spritz myself with it because it smelled so good. Finally, I caved and bought my own bottle.
Now, Lancome's come out with a similar product.
It's called La Base Dewy Glow and is a mixture of essential oils with water. Though it's called La Base, this is nto a cream. It's a liquid with thin consistency so that it comes out of a spray bottle. And although there are oils in the product, it's not oily at all. Spray it on your hand to check – no oils, just a light luminous spray of water.
The best thing about this is the scent. It smells like gripe water that you give to babies. It's a yummy yet slightly floral scent that's light and completely unobtrusive. The scent has a light cedar drydown, and after a couple of hours you can't smell it at all.
This is perfect for vacations or for keeping at work when you have long days. Spray it on before you go into a meeting so that you can be fresh and calm, and best of all, you'll smell fresh!
They say that you can use this before or after makeup, and that it smoothes the skin, reduces the look of pores, and brightens the complextion. However, none of that it true. You would have to put a lot on for it to do that, and this is a really fine mist of a spray, so it's not going to even sit on your skin for very long before evaporating.
But, it does make you feel good, and I love using it.
Available at all Lancome counters for $44.