This @LancomeCanada foundation is from 2014 but it's what I'm wearing right now. I layer it on top of a moisturizing sunscreen and the matte formula stays on my skin so well. This foundation is discontinued and the pump doesn't work but I still like it.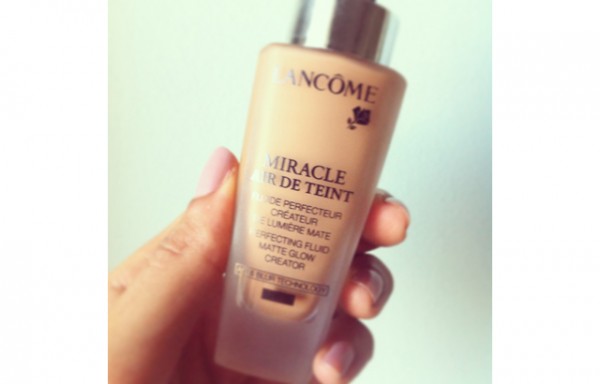 You may have seen me recommend this foundation in my May favourites video, and it truly is an amazing foundation.
It is not mask-like, caky, and doesn't even feel like a foundation. It feels and looks like nothing on the skin, and just blurs imperfections enough so that they're not at all noticeable.
Lancome Air de Teint is a liquid to powder formula. When I say that it's a liquid, I mean that it's really a liquid (see the demo in the video). You take a few drops of the foundation, smooth it on to your skin and that's it. Because it turns into a powder, there's no need to set it or even use a primer underneath it. It will go on very smooth.
Again, because of the powdery finish, this foundation ends up being amazing on oily skin but will work on nicely moisturized skin as well.
I even like to use it as kind of a retouching powder. If I start the day with a more traditional heavy coverage foundation, I simply apply this mid-day on top of everything, and it refreshes my look and works better – and more importantly looks better – than any other powder.
Seriously, you need to try it to believe it, so I recommend that you head to your local Lancome counter and try it for yourself. The foundation comes in 12 shades and because it is sheer coverage, you might find that more than one shade works on you.
Because it is super sheer, you may need to go over troublesome spots with concealer, but those who generally don't wear foundation will find that it really works well as a kind of skin perfecter.
$46 at Lancome counters.