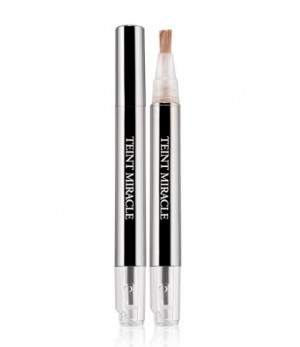 Just the right amount of highlighter. It's hard to tell how much is just the right amount because I'm finding that more and more, the shadows I use to highlight look slightly frosty, and the best way to go is to use a lighter shade of concealer or foundation, possibly with a touch of shimmer in it. The pen has a brush applicator and you click it to get more product. The idea is very similar to YSL's Touche Eclat, but this formula is not as powdery or as shimmery as that one. I also find it to be slightly thinner.
This is where Lancome's Miracle Instant Retouch Pen comes in. This is a medium-formula concealer that offers coverage and brightening in one. It's got a super light texture which makes it easy to apply a little and layer on more if you need more coverage.
My favourite way to use this isn't even for covering. The best way to use this is to highlight in a very natural looking way. Use some on your brow bone, on the edge of your nose, and your cheekbones. The effect is so natural, but it'll really make you stand out in pictures.
Try this at the Lancome counter before you pick it up, and keep in mind that the thin formula is different, but better than those thick concealers that are really made for major covering up.