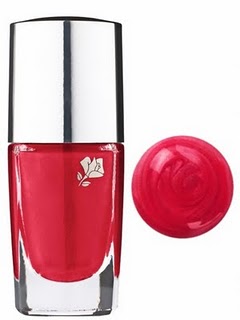 This summer, Lancome has tons of brights in its collection, and among them is the Sarong nail polish.  This is a coral red that can look more fuchsia or more orange depending on the lighting.  That's because it has gold and fuchsia shimmer, and so both of those pop when you wear the polish.
The polish is very pigmented which I love.  I usually wear three coats of polish to get my desired level of coverage, but with Sarong, I only had to use 2!  It didn't streak at all, which is a definite plus, and so application was smooth and easy to achieve.
The wear is also pretty amazing and that's a must for a bright polish because the chips can be so obvious.  After a weekend party that meant doing lots of dishes and cleanup, my polish was still in one piece.  Usually doing dishes ruins my nails, but not this time.  In fact, I would probably turn to this if I was hosting many people in my house and wanted to look every bit the glam hostess that I am.
Check out my swatch below. I tried to capture the shimmer because it adds so much to the colour.
Sarong is $22 at the Lancome counter, and a must have for the summer.  It would also make a great pedicure colour!