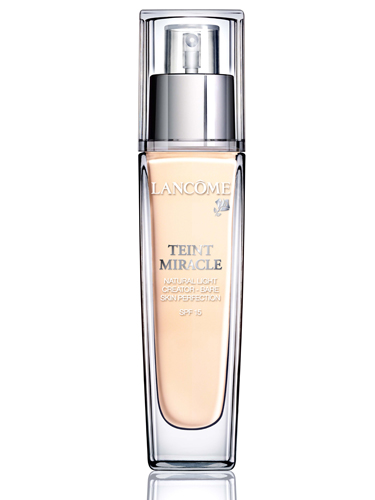 I've got my hands on Lancome's newest foundation, Teint Miracle, which comes out this December!
I really loved Lancome's last foundation, Minerale, and wore it until I ran out.
I think that this one is going to be the same, and I've already put away MAC Pro-Longwear in favour of this!
Lets start with the copy.
"Light emanates from the most beautiful skin. We can reproduce it.
With Aura-Inside™ technology, Lancôme invents its 1st foundation that recreates the true natural light of perfect skin. Instantly, complexion appears lit-from-within, beautifully bare, visibly flawless. With 10 years of research, and 7 international patents pending, this lightweight texture is enriched with soothing rose extract, gives 18 hours of hydration."
What they say about light is true. Good clear skin looks like it's being lit, and that's why we love highlighters too. They make it look as if our skin is healthy and fresh, by letting it reflect light.
Predictably, Lancome's new foundation has shimmer in it but it's so finely milled and such a teeny tiny amount that you will have a hard time seeing it when you apply the foundation. It does indeed make skin look "lit-from-within" because it is so subtle.
The texture is also accurately described. It is extremely lightweight and almost like water. The foundation is really thin, which means that it spreads really easily, and is very sheer. I can't feel this foundation when I'm applying it, and when it's on, it doesn't crease, streak, or look heavy because of its sheer texture. It's easy to blend into my skin, and because of this I prefer applying it with a brush so that I'm wasting as little product as possible.
The best part about this foundation is that although it's not meant to be, it does indeed last the whole entire day. It just melts into skin, but doesn't fade away, which is amazing. I've even worn it through a workout and my skin looked radiant for hours afterwards. It takes me from 6 in the morning to 12 at night and that in itself is amazing.
The colours are also very natural looking and I chose 04 for my NC 35 skin tone. It match my skin better than MAC foundation because it doesn't have that distinctly orange or yellow tone that MAC foundation has. It also blends so well that there's no perceptible line where the foundation ends and my skin begins, and I absolutely love that. Unfortunately Lancome is only introducing this in 7 colours in North America, so I'm sure that some people will have a hard time finding a perfect match. That being said, this is a sheer foundation so each shade will likely match many skin tones.
I don't feel that I can really adequately judge the hydrating capabilities of this foundation. I don't have dry skin to speak of, and I always apply moisturizer before foundation, so if my skin doesn't get dry, I assume that it's the moisturizer that's doing the work and not this foundation. The foundation is not oil based, so it probably won't do much for very dry skins, and it's not mattifying so if you have extremely oily skin, it won't be for you either. I always set it with powder in the morning, and I found that my skin was not overly oily throughout the day and the foundation lasted.
Just when the foundation couldn't get any better, it comes in a clear bottle so you can see exactly how much of this magical substance you have left, and it has a pump so that you can get just as much as you need without contaminating all the foundation. I found that one pump was more than enough for me – it covered my entire face and my neck.
This is, in fact, my holy grail of foundations and I'm waiting until summer to see if it can last me through the hot weather too!
Pick this up at Lancome counters before your head to your Christmas parties!