I think that it's really interesting how Lancome's collections have changed since Aaron de Mey replaced Gucci Westman. Gone are the beautiful baubles and the fanciful packaging. Gone are the surprises and "what will they think of next" aspect of the collections. Remember the elephant compact? Or the marshmallow lip balm?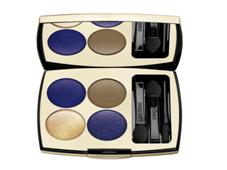 Instead, what we've been getting are some very basic yet pretty collections. You have a couple of standard, well-packaged eyeshadow quads, a coordinating eye pencil, lots of bright lipsticks and lip glosses, and a mixture of dark and light nail polishes so you can go goth or glam depending on your fancy.
The Fall collection is no different. It's called Declaring Indigo and focuses on the colour blue. There's a blue nail polish, and blue eyeshadows in the quad. The lip colour to go with this is red, which is surprising because dark eyes and dramatic lips usually don't go together – the look is often a bit "much".
Nevertheless the collection really follows a trend this season, and that's of a luxurious feel to everything. Fur is back in and so is leather. High-shine and an almost ornate look to things is what's to be expected, and Lancome is offering a beautiful gold nail lacquer in this collection that really plays into that look.
The packaging is also pretty fancy. Both quads come in a metallic silver compacts. There's also a shimmer powder called Rose Liberte. Featuring gold overlay and a fantastic rose design, the compact gives a hit of shimmer that would make a perfect highlight for a night time event.
The eyeshadow compacts retail for $50, the shimmer powder is for $44, and the nail lacquers cost $21. The collection will be on counters starting September 2009.