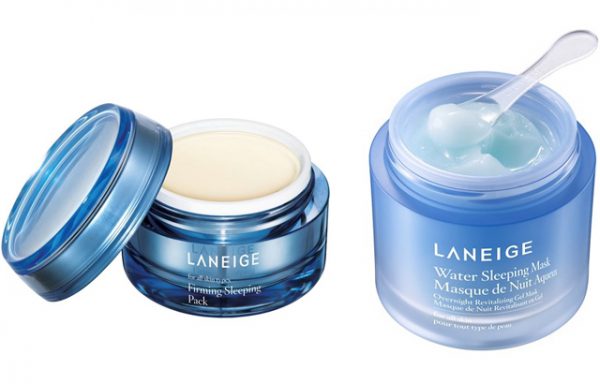 At the end of last year, I got a trio of Laneige sleeping masks, including one for the lips which is pure sorcery.  Read my review of it here.  I don't know why it works so well but it does, and it's basically now my go-to lip balm because it completely works every single time!
Laneige is a Korean skincare brand and it seems to really make good hydrating products.  If you have dry skin, even occasionally, I suggest that you check this brand out.
I also got the Laneige Water Sleeping Mask and the Laneige Firming Sleeping Mask.  Both of these are basically like intense moisturizers that not only provide immediate hydration and relief, but they also stay on top of the skin to hydrate while you sleep.  
The Water Sleeping Mask ($30) has a gel texture, and a nice rose, sandalwood, and orange flower scent.  I like scented products, but if you're sensitive to those, then you would want to be careful of that.  The gel is watery and immediately sinks into my skin – I put on lots and it still absorbs, and because it's not greasy, I don't feel like it rubs off on my pillow.  The next morning, my skin is fresh and hydrated – glowy – and it stays that way.  I use exfoliators and scrubs on the regular so I occasionally need to give my skin some TLC, and this mask does just that.  I don't use it daily – I don't need it for that, but I like pulling it out when it's too cold outside, or when my skin feels dry and tight. 
The Laneige Firming Sleeping Mask ($39) is a bouncy mask, and I love the texture and formula, but digging some out this jelly of a mask is a little awkward so I don't enjoy that.  That said, this mask is again super moisturizing and not as strongly scented as the other mask.  It sinks into your skin without being sticky and provides immediate relief and lasting hydration.  This mask is light enough that it will work even on combination or oily skin for a blast of hydration.  It's not greasy or sticky and helps your skin feel more smoother.
Laneige is available at Sephora stores!