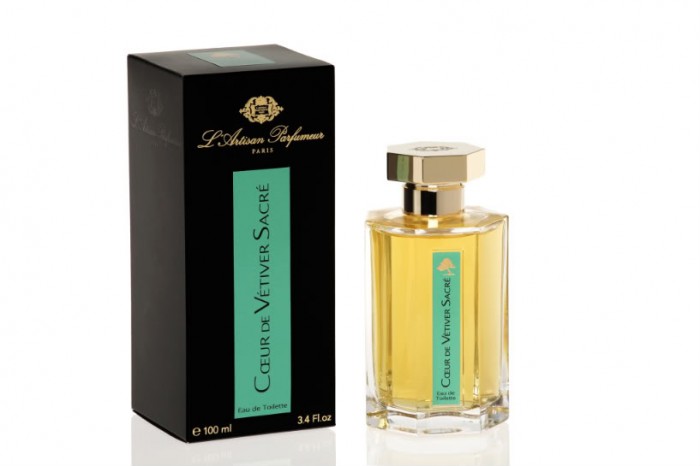 L'Artisan Parfumer's newest scent is Coeur de Vetiver Sacre, and is done by Carine Vinchon who also did their L'Eau de Jatamansi, which was a nice fresh salty blend that I loved but it just didn't last on my skin.
Coeur de Vetiver Sacre (which means "The Sacred Heart of Vetiver") is quite different from that scent, and takes the idea of the smell of Vetiver as it's heart and base, and builds the scent around it.  Thus, the warm woodiness of the vetiver grass is preserved and at the same time heightened by the other notes added to the scent.
The opening of the scent is cool and quite green, and then middles notes of bergamot and black tea come through.  You can see how the vetiver is being enhanced.  The bergamot provides a sparkling freshness while the black tea has a smoky woodiness to it.  There's a pepper and ginger note, and then a drydown of musk, incense, and vanilla – both cool instead of being overly warm.  The scent is bright and fresh yet so woody at the same time.
This is a perfect fall scent.  It has crispness to it, which autumn does because of the approaching cool weather.  It also has a woody smoky aspect that reminds you of logs burning in the fire, and then a spicy vanilla aspect that reminds one of some kind of baking.
All L'Artisan perfumes are unisex, but of course, you would notice that some lean more feminine than masculine, and vice versa.  Coeur de Vetiver Sacre seems to be a bit more masculine, perhaps because vetiver scent usually are, and the bergamot opening definitely doesn't help.  However, I've always been a fan of their more masculine scents, and I loved this one so much that I don't want to give it to any of my male friends.  Part of the reason is probably that they won't appreciate it as much as I do, and if I give it to them, then I wouldn't get to smell this as much, and lately I have been spritzing it on everything. This is an EDT, but wears like an Eau de Parfum – the scent is strong and has fantastic lasting power.
L'Artisan Parfumer is sold at niche perfumeries.  I get mine at Noor Boutique in Toronto – it is located at the base of the Four Seasons Hotel.  100ml retails for $135, and their 50ml size retails for $95.