L'Artisan Parfumeur is a line of scents that is known for their simplistic yet complex perfumes, that are the epitome of quality.  Though they have all kinds of scents, what I especially love from their lines are the scents that are centered around a single note.
Mure et Musc eau de toilette is one of these,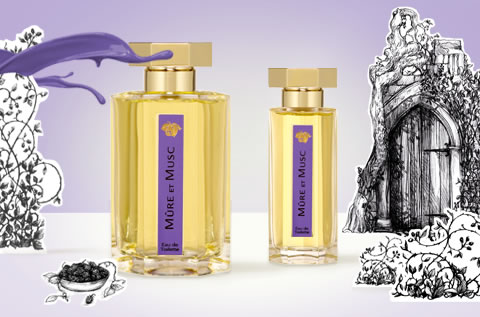 and of course, it is focused on enhancing the scent of musk.
The original scent was launched in 1978, and has since had a few variations, notably Mure et Musc Extreme eau de parfum.  The original scent became popular because it enhanced the musk note with a blend of berries – this is still unusual but the fruity woodiness of berries really does enhance the musk and gives it something special.
I used to be a fan of Kiehl's Original Musk back in the day, but I got sick of it because it was just too much musk all the time.  Mure et Musc is more wearable and yet still has that distinctly musky scent.  It's got a citrus opening, and a nice woody drydown.  The extreme version makes the berry notes (blackberry especially) more pungent without making the entire fragrance a gourmand.
If you're like me, you might also find that musk fragrances can be overly strong, and I think that with the blend of berry and citrus notes, the musk in this is quite toned down and though it is there throughout the scent, the musk isn't so strong that it will offend people around you.  This is a wearable musk and totally subtle in the way that grown up scents should be.
The latest from the brand is that they are offering Mure et Musc in other formulas – body cream, shower gel, body oil are just some of the offerings and you can check them all out on the website. Surprisingly, I really like the shower gel which I tried a tiny sample of.  I love that it perfumed the air, but I didn't necessarily have to wear the scent for the entire day.
In Canada, L'Artisan Parfumeur fragrance products are available at Noor in Toronto, and Ogilvie in Montreal.