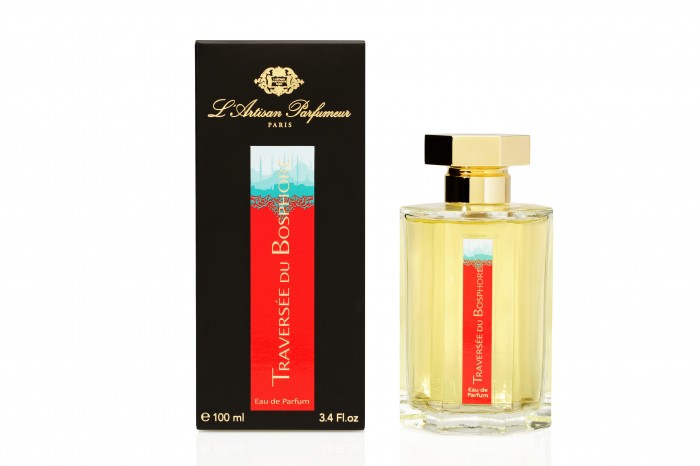 The Bosphorous is the river that one crosses to get to Istanbul, and this scent was made by Bertrand Duchaufour as a representation of that journey. The hottest trend in scents seems to be capturing the scent of Russia, but in a way that hearkens back to its more esoteric Eastern roots.
L'Artisan Parfumeur says that the scents of Istanbul include:
"The men sit around in an endless, casual debate, the tobacco smoke rising lazily from their hookahs. The scent of hot juicy apples floats up into the air.
Gardens bursting with a thousand dazzling tulips exude green notes carrying a hint of saffron. The delicate fragrance of the saffron becomes almost overwhelming as the spice market draws near, blending deliciously with the aroma of leather that scorches the air around the tanneries.
It is easy to lose oneself wandering through this maze of tiny streets at random, escorted and intoxicated by the suave, soft perfume of Turkish Delight, oscillating between rose and pistachio. A swirl of gentle musk emanates from every unhurried step, which slow and become almost aimless as dusk approaches."
The thing is that when I wear the scent, I don't get apples or turkish delight, and having bought a leather bag almost fresh out of a tannery, I can tell you that I definitely don't want to smell like it.
What does come out is a vanilla-amber opening that seems to last throughout the scent.  I have a problem with scents turning sweet on my skin very quickly and this definitely did that.  The hints of amber in the opening led to a definite tobacco and smoke note that was pleasing – it's definitely unusual to find it perfumes, that's for sure. The vanilla and amber keeps coming through and it is indeed mixed with the soft buttery scent of pistachio that makes this a gourmand scent.
Though it's quite sweet, I keep having the feeling that this one is more for men than the women, and the warm blend of notes makes it entirely different from any other men's scent out there.  Indeed, it would take a man confident in his olfactory choices to wear this scent, but it would make him stand out like nobody else.
This has excellent sillage and lasting power.  One spray will do you!
The scent is now available wherever L'Artisan Parfumeur is sold, and is an Eau de Parfum.  100 ml is $155, and 50 ml is $115.  It is also available as a scented candle, which I want to get, because I know this would be heavenly as a room scent.  The candle is 175 gr and costs $60.