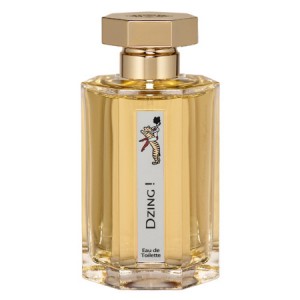 Dzing! is one of the most well-known cult fragrances, and it's one that every perfume lover should at least smell, if not own.
Made by Olivia Giacobetti, Dzing! is supposed to evoke the smell of the circus and so, it smells like nothing else out there.
Sadly, there are rumors that this may be getting discontinued soon.  L'Artisan was going to discontinue it last year, but when perfume lovers around the world were in an uproar, they decided to just discontinue the 50ml size and continue to offer the scent in the 100 ml bottle, which I bought this summer.
Many people say that Dzing! smells to them of cardboard, and after a few sniffs, I have to agree.  The smell reminds me of cardboard, or of paper freshly out of the photocopier or printer.  There's a warmth and sweetness to the smell, while you are acutely aware that you're not supposed to be smelling anything at all.  This is more of a feeling than a perfume, and it's quite a wonderful one at that.
Having never been to a circus, I can't remark on whether the depiction is faithful to the real thing or not.  You will have to smell this yourself to figure that out.
If you think of the circus as smelling of animals or even of straw, then this isn't it.
This also reminds me of cotton candy – because of the inherent sweetness of the perfume, I guess.
Officially, L'Artisan describes Dzing! as a blend of leather, musk, toffee, iris, and saffron, not necessarily in that order.  I couldn't smell any of those notes in the scent, but I could detect some florals and of course subtle sweetness.  Like I've said, this is unlike any other perfume out there.  It is easy to wear, and long-lasting though subtle.  It only comes in an Eau de Parfum strength, and I think that's a good thing considering that the scent is so incredibly subtle.
If you'd like to buy L'Artisan Parfumeur's scents and live in Toronto, you should head to Noor which is where I bought my bottle.  The owner spent a good hour with me as I expored different scents and was super patient and helpful.  The shopping experience there is always amazing and reminds you of what customer service really is.  They also take phone orders so if you know what you want, call them and they'll ship it to you!