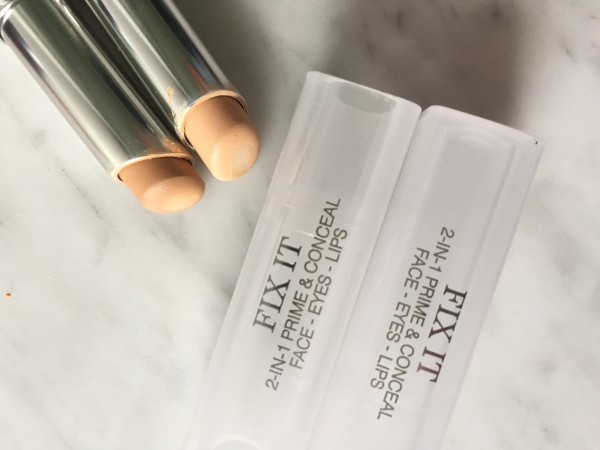 I'm kind of all about concealer these days and if you're too tired/busy/lazy to put on a full face of makeup, then a good concealer is all you need.  You can use it to spot conceal blemishes, but I also use it as a kind of foundation, applying bits to the highest points of my face and then quickly blending with my fingers that already have dabs of moisturizer on them.
Right now I can't get enough of Dior's new Fix It 2-in-1 Prime and Conceal stick because it's the perfect product for the application method I described above.  The Prime and Conceal Stick is a concealer and primer in one – the lipstick-like tube has a primer in the core and concealer on the outside.  Applying the stick meshes the two products together giving a super smooth application to the concealer.  Because of the primer, there is no drag and blending is a breeze.  The product also finishes to a natural satin matte finish that stays.
You can even use this to prime the lips for lipstick because the primer fills in lip lines, however it does mute the colour of the lipstick you might then be applying.  It's great for a nude makeup look, but not so great if you're using a bright colour.
I just quickly swipe it under my eyes, on my chin, and on my forehead and then blend blend blend and I'm good to go.  The finished look is seamless.  It helps, of course, that because of the primer, the concealer doesn't end up being full coverage, but this could be a good thing if you want a natural look.
(The un-filtered picture above is colour 002 and 003.)
$36 at Dior counters this fall.