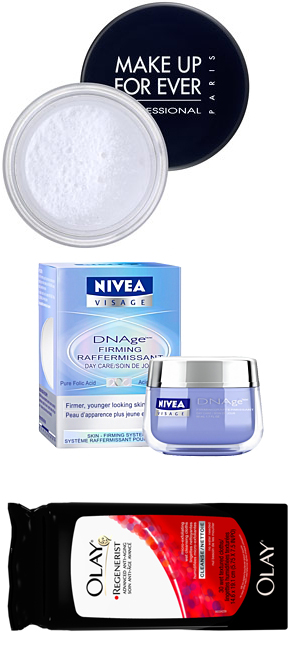 After Fashion Week, I always get a little bit obsessed with doing my makeup in a more professional manner.  The makeup artists backstage make it look so easy, and even though I'm not a professional, there are some things that can help your makeup technique.  Here are some lessons I've learned:
1. Work in sheer layers.  Don't slap on foundation and then layer powder.  That's what makes makeup look caked on, which is never good.  Instead, do a sheer layer of foundation, and then add a sheer layer of concealer to spots that still need coverage.  A sheer layer of powder should set it all, and if you find yourself getting oily, switch to a mattifying foundation instead of adding more powder.  Have translucent powder on hand at all times.  I love Make Up Forever's.
2. Don't expect makeup to solve skin problems.  That means that you shouldn't be using a moisturizing foundation if you have spot dryness.  Instead, make sure you use a light moisturizer before applying foundation and let it set on your skin before going to the next step.  Similarly powder won't absorb oil as well as a mattifying moisturizer or primer.  They'll prevent the oil from even getting through to the powder.  One moisturizer that makeup artists love is Creme de La Mer, because it has intense moisturizing but it absorbs so quickly.  A great substitute is Nivea's DNAGE Day Cream because it also absorbs well and provides moisture to all kinds of skin.
3. Be clean.  Wash your hands before starting, and make sure your brushes are clean.  This way, you'll be sure to have a clean finish and no clumping along the way. Keep wipes on hand for taking care of mistakes you might make or for cleaning product off your fingers.  I like Olay Regenerist Micro-Exfoliating Wet Cleansing Cloths.