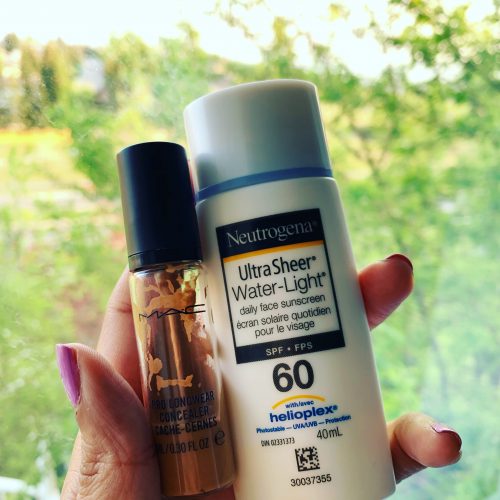 This is a life hack of the best kind: it uses products that you probably already have in your beauty drawer.  Sometimes when I want to wear foundation but I also need to use a ton of sunscreen because that's the kind of day it's going to be, I mix together the sunscreen with a super pigmented concealer in a shade darker than what I would normally use. Because concealer is so pigmented, you only need a drop of it mixed into anything.  I mean, you could do this into moisturizer for the winter but somehow I never do that.  What's more important is a sunscreen that has the perfect tint to it.
In this case, I'm using MAC Pro Longwear Concealer in the shade NC 42, which would probably match the darkest parts of my face, like my nose and my forehead.  It's super long-wearing and mixes into anything so easily.
It's a way to make a tinted sunscreen that's just for you.
Set with powder and get on with your routine, or day.