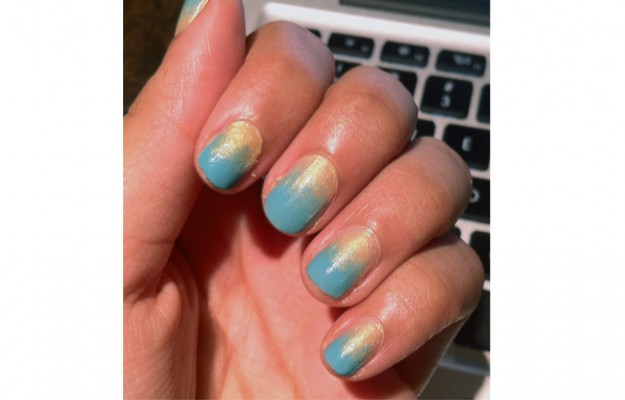 So I'm on a bit of a nail art binge. This is what's doing it for me makeup-wise these days; however, because I'm not completely artistically inclined, the key for me to do nail art is that it needs to be super easy.
The Ombre nails fall into that category… somewhat.
First of all, here's the how-to video I watched before doing my Ombre nails.
So I watched that video and decided to try this for myself.
What appealed to me is that the tools to do this mani aren't overly fancy and I had them already. It also seemed like you just need some patience and a good eye to do the technique. The colours I picked were Dior Saint-Tropez, and Dior Or Divin (from the 2011 Holiday Collection).
Here's what my ombre manicure looked like: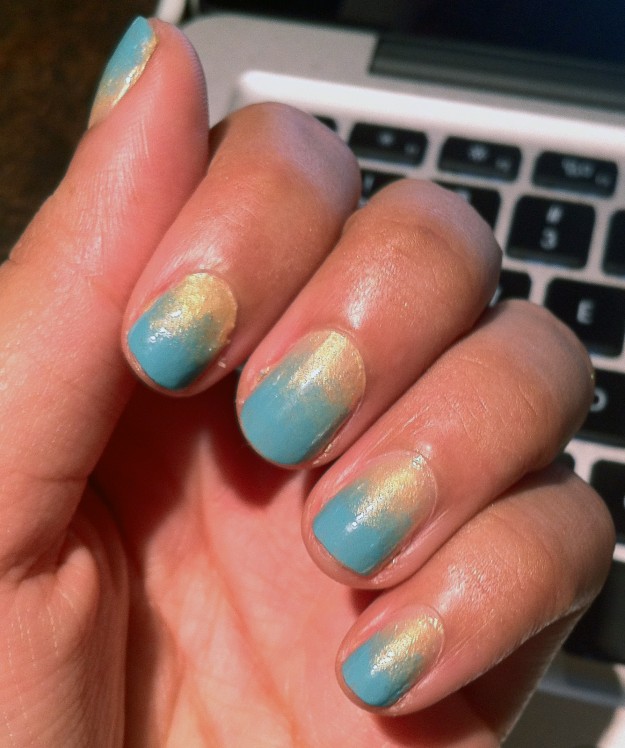 I don't think that my manicure was anywhere close to perfect, but my results were good from far… (but far from good). I was happy enough to wear my manicure out and about, and doing it gave me enough confidence to try the technique again!
But before I do, here are my tips for how to do an ombre manicure yourself.
1. Pick polish colours that have similar opacity. As I mentioned, I used Dior's Saint-Tropez (because it's the perfect turquoise that's come out this year), and Dior Or Divin (a golden champagne). The gold was pretty sheer on its own, while the Saint-Tropez was pretty pigmented. That meant that it was difficult for me to really get the perfect amount of layering with each shade. Next time, I would use two colours that are on the opaque side, rather than sheer.
2. Wait until your base coat is completely dry before you start layering on more colour. Otherwise the polish gets tacky and you'll find that you're taking more off than putting on.
3. Blend the colours on each nail until you're finished. When I did the second hand, I decided to sponge on all my turquoise on each nail and then go back and do the gold. Huge mistake, because it was difficult to blend the turquoise and the gold perfectly because most of the turquoise had dried already. If you blend on each nail while the polish is wet, it's easier to work with and thus your results are better.
4. Use a new sponge for each hand. I found that my sponge got too tacky after doing the first hand, so I decided to flip it over and use the other side. This ended up being messy and I got polish everywhere. Just use a new sponge.
5. Go slowly and really focus on getting a nice long transition from one colour to the next. Again, I got tired on my second hand and didn't spend as long. I think the results show it.
Overall, this mani took me about 20 minutes and the results are totally worth it. It chipped on the second day but that's because I was spending a lot of time in the kitchen (I was cooking and must have washed my hands about 20 times that day).
Have you tried this yourself? Would you? Do you have any tips you can share?