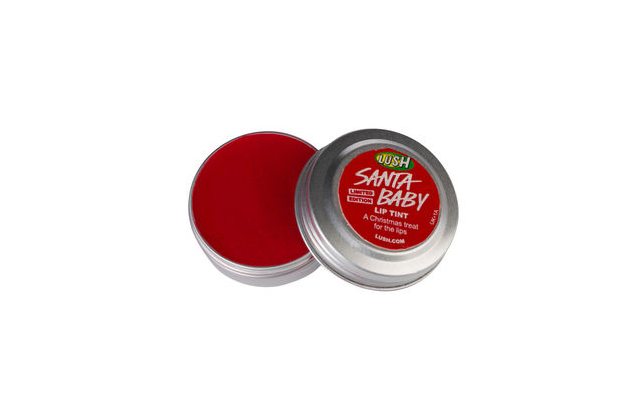 Lush's Lip Tints are perfect for the girl on the go who prefers her lips stained rather than rouged. The packaging of the lip tints are specifically made so that you can smear them on with your pinky finger and just add a hint of colour to your look.
Santa Baby is a bright fuchsia red that's quite hard in the tin but melts slightly with the heat of your fingers. It's wearable because you can apply it lightly or layer it on until you get the colour intensity that you need.
Lush says that this is hydrating as well, but that's a little misleading. Although the base is made of emollients, there is so much pigment in Santa Baby that you need such a tiny amount on your lips. That means that you're not really applying much and so there's barely any relief for dry lips.
If you have dry lips, my suggestion would be to apply a light layer of moisturizer before, wait for it to absorb, and then apply Santa Baby. Alternately, you could top with a gloss, but that's going to mean that the colour isn't going to last that long, and that would be a shame because one of the highlights of this titn is that it is so long lasting.
Pick it up at Lush stores or at Lush.ca for $8.95.