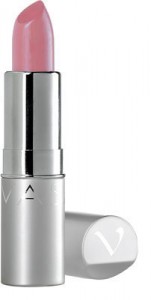 Shout out to Canadian brand Vasanti, which has been making cosmetics for women of colour for over 15 years!  I remember when they were a kiosk in the mall but they're now at Shoppers Drug Mart. The best thing in their product line is their concealer – it has orange in it which counters the blue that is under your eyes, so it works as a corrector and then you can conceal.
Vasanti a mid-range brand and many times, the colours and products that you'll find there will be in neutral, natural tones so that you can create a flawless natural look.
Lately, I've really been liking their lip products. I have their sheer lipstick and a lip gloss in a coordinating colour and they are the most flattering products I've tried in a while. Both are in a sheer berry shade, and are not sticky at all. They go on smooth and make your lips look naturally pretty.
These are available at online at VasantiCosmetics.ca or at some Shoppers Drug Mart locations.