Lipstick lovers should know about Lipstick Queen, the line started by Poppy King who launched her own lipstick line when she couldn't find a lipstick she loved.
I've reviewed the line before, and every single product is awesome and totally unique from everything else that's out there.
Now, the line is available at TheShoppingChannel.com and they even have her newest creation: Jean Queen.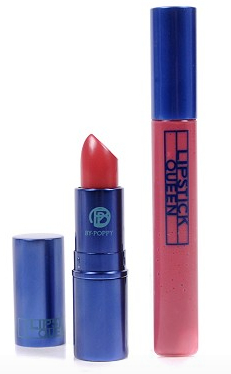 Jean Queen comes in a lipstick and a gloss, and is the perfect shade of pink.  Poppy said that fans of her lipstick were always asking her what the perfect shade to wear with jeans was, and so she came up with the perfect pink that will look good on everyone.
This is a "my lips but better" kind of colour, and it's a gorgeous blue-based pink that really looks naturally lovely.
It is a colour that is casual enough for every day and will go with anything you wear or any lip look.  I keep mine in the car because I know that's when I usually need to throw something on that will go with everything.
The lipstick version is sheer and buttery but it has almost a staining effect on the lips.  Colour gets left behind so that your lips still look good even though the lipstick may have worn off.  You can layer the colour to get a darker look and more opaque coverage.
The Lipgloss is totally NOT sticky, has lots of pigment and is moisturizing on the lips.  I like to use the lipstick and gloss together to get that perfect colour and balance with moisturizing my lips.
The Jean Queen lipstick is $20, the gloss is $20, but you can get both of them as a set for $26.