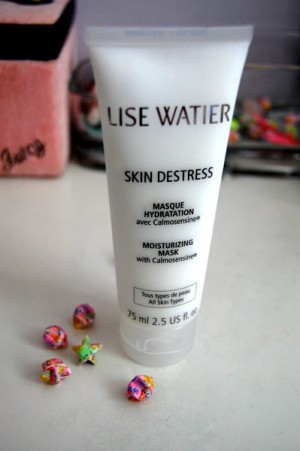 This week, I take a look at some moisturizing masks – summer is over, winter is approaching so stay tuned to read reviews of 3 moisturizing masks.
Lise Watier makes some really great, decently priced cosmetics, so I was really excited to try the Skin Destress Moisturizing Mask, having never tried their skincare before.
The mask is a pretty great, I must say.
The  mask contains a peptide called calmosensine, which has been proven to soothe the skin and relieve stinging, heat or general discomfort of the skin.  It has this lovely, citrus scent that reminds me of sunshine, and has a cream-gel sort of texture. Not too heavy, but still pretty moist feeling.
I found that it tingled my skin after being applied, especially if I used it post-exfoliating scrub, as suggested on the bottle. It also suggests that excess product be wiped off after 10 minutes, but as I live in Calgary, my skin is so dehydrated that there wasn't any excess product to wipe off.
This should definitely not be used around the eye area, the light tingling sensation would probably not be pleasant in that sensitive, thin-skinned area.
Each time I used it, I woke up in the morning with still-moist, evenly toned skin. It's the kind of mask that makes you feel like applying masks is totally worth it.
The mask costs around $29 where Lise Watier products are sold.