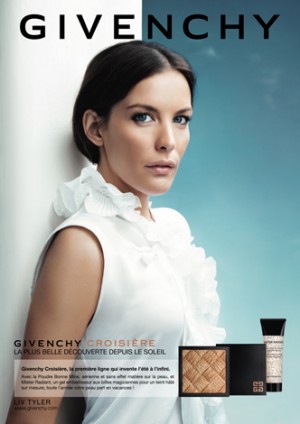 If you think that Liv Tyler looks a little strange on the poster for Givenchy's Summer 2012 collection, you're not alone. I think it's the fact that we're used to seeing her with brighter lips, and the very monochromatic neutral look just doesn't seem to be her.
Nevertheless, the collection gets its point across by showing us their summer look which is based on bronzes in different shades.
The highlight by far is the new bronzing powder called Poudre Bonne which comes in 3 colours. Check out the image: pretty, no?

The Givenchy collection can be found at Sephora stores, and if you head in there, also make sure that you check out their concealer called Mister Light. It is one of my favs.