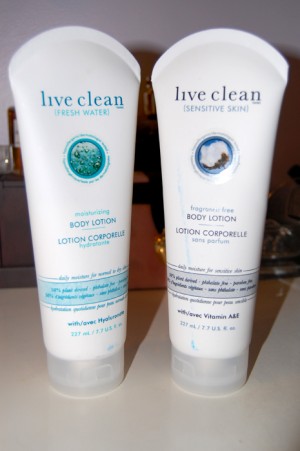 Among the many wonderful things about Live Clean moisturizing body lotion: it is 98% plant derived, paraben and phthalate free, pure vegan, and biodegradable right down to the packaging.
I didn't immediately love this lotion, because it takes a while to rub it into your skin. It seems white on your skin for a while, but it absorbs pretty quickly if you give it a second. Once you give it a few days, it works amazingly. After 2-3 days, my skin was amazingly soft, and hydrated, even though it was -20 with blistering wind outside.
Live Clean (Sensitive Skin) Fragrance Free Body Lotion is enriched with vitamins A&E, as well as chamomile (to soothe sensitive skin), and white tea. It has a very mild scent, lighter than most other fragrance free lotions.
Live Clean (Fresh Water) Moisturizing Body Lotion is enriched with rosemary and chamomile. It also contains my favourite ingredient ever, hyaluronate, which draws water from the atmosphere into your skin. The scent isn't my favourite. It's probably meant to smell green and fresh, but comes off a little too strong and manufactured. The lotion works amazingly though, so the smell isn't too much of a deterrent.
It's available at some drugstores and grocery stores across Canada, and retails for about $7 at Shoppers Drug Mart.