It's definitely that time of year where the warmer weather is starting to have an impact on our skin and that includes hair that's just a bit oilier and needs something different.  Some people think that it could be a sign that your hair is getting used to your shampoo, but really, the climate makes such a difference.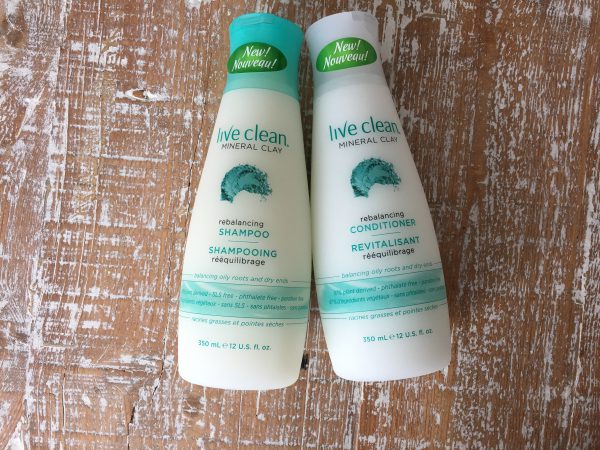 It's time to introduce something into your routine that will take care of oiliness without really drying your hair out – especially if your hair is already dry, or colour-treated or curly, you'll want to make sure that you don't mess with that texture while you're trying to control the oiliness.
So there's Live Clean's new Mineral Clay Rebalancing Shampoo and Conditioner.  The whole line has been formulated to make sure that there's some balance between the top and the bottom of your hair shaft.  The addition of mineral clay helps the products absorb excess oil so that nothing looks greasy, but moisturizing ingredients help maintain the texture of the rest of the hair.
I've written about Live Clean a few times: I love their concept of clean beauty products at affordable prices.  Everything is sulfate-free, and silicone free, so although you'll notice that the shampoo lathers and cleans, it's more gentle, and the silicone-free conditioner still leaves your hair with a silky-smooth feel that you're used to from traditional conditioners, but without the potential build-up.  
Available at Shopper's Drug Mart, Walmart and Well.ca. 350ml mL, suggested retail: $7.49 to $7.99.