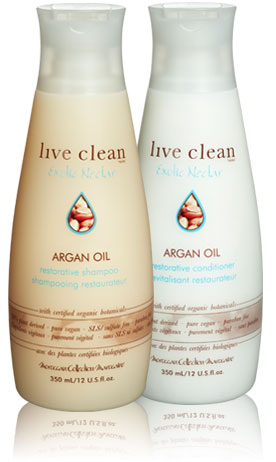 I love checking out natural shampoos and conditioners because it means that I can give my hair a break from silicone laden products and use something that's potentially going to help my hair!
Recently, my friends and I can't stop raving about Live Clean's Exotic Nectar Argan Oil Restorative Shampoo and Conditioner.
Both the shampoo and conditioner are chock full of awesome ingredients, including Argan Oil, Grapeseed Oil, and Olive Oils.
When I first used the products, I did find that my hair was a little more weighed down than usual, but I continued using the products.  I finally got the point where they moisturized my hair so well that I didn't need to use any kind of serum or additional styling products once I was finished washing my hair!  My hair was clean, but it was also so moisturized and conditioned that it was un-frizzy all on its own!
The Exotic Nectar line also includes a host of other styling products, so if you can't use the shampoo and conditioner it's worth checking those out.
I found the products at my local grocery store, and for the price, they are a great find.