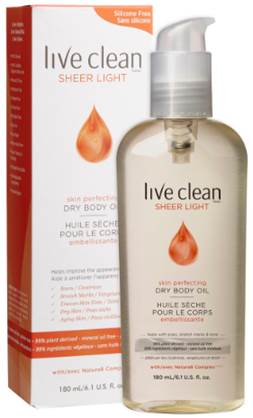 What makes Live Clean unique is that they always have natural ingredients in their formulas – so when I use their new Dry Body Oil, I know that there's going to be a blend of organic oils in the bottle, not just scented mineral oil (which, I would use, but it wouldn't be anything special).
The Live Clean Sheer Light Skin Perfecting Dry Body Oil is awesome – it's a blend of Safflower, Avocado, Coconut, Argan, Jojoba, and Sesame oils along with a dose of vitamin E and C.
The oil also has a light citrusy fragrance that isn't too sweet or too strong.  The oil is super smooth and goes on so nicely giving skin a nice sheen.  I use it straight out of the shower and then gently pat skin with a towel.
Available at Walmart and Loblaws for $9.99.