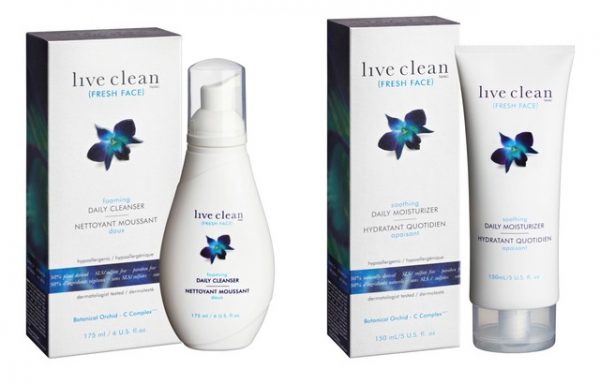 If you're looking to change your routine to something that's more plant-based and yet affordable, then check out Live Clean's Fresh Face line (available at drug stores and mass merchandisers).  I've been using their Fresh Face Daily Foaming Cleanser and the Soothing Daily Moisturizer, and both seem perfect for people with combination or oily skin.
The Foaming Cleanser is truly something of a hero product – it dispenses as a foam but glides on almost like a gel, melting makeup and washing off clean but not drying.  I love rubbing it on my skin because of the amount of slip it has.
The Soothing Daily Moisturizer is light and easy to use.  It absorbs almost instantly and makes skin touchably soft.  I wouldn't use it on anyone who has dry or even normal skin – in the cold winter months, you might find that this isn't nourishing enough for your skin, but because I have oily skin, it worked quite well for me, because I could apply makeup afterwards and my skin felt smooth and comfortable.
Sometimes, basic is best.