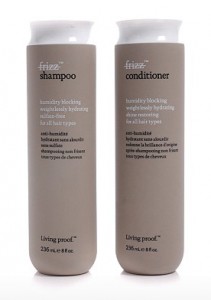 Living Proof's No Frizz line is probably the most talked about hair care line this year.  I remember when the line first came out in the U.S., all I read about it was that it made hair so super frizz-free and was totally revolutionary.  I've reviewed their wave-shaping cream for curly hair and although it gave me nice-looking results, actually my hair was a little stiff and crunchy from using it.
I've lately been using their No Frizz Shampoo and Conditioner duo (which I got from The Shopping Channel) and I pretty much expected it to make my hair totally straight and frizz-free so obviously I was totally underwhelmed after a few tries.
I think that what I really didn't like about this system was the shampoo.  There's something super weird about it.  It doesn't seem to have any conditioning agents whatsoever, so when you rinse your hair, it's kind of matted and knotted together.  If you have curly hair, you know how easy it is for it to get tangled up, and this just made a wet mess of my hair.
The conditioner is pretty good at undoing the damage, but not totally.  I've tried using it with a regular, more conditioning shampoo, and I found it to be a pretty average product.  It's no Ojon, I'll tell you that, and any day of the week, I'd rather use a deep-conditioning mask instead of this conditioner.
I'm sure that the Living Proof products work by really developing a heavy film on your hair so that humidity can't get through and make your hair frizzy, but I'd rather using something moisturizing and then seal my hair with a good hairspray (I love Moroccanoil's).