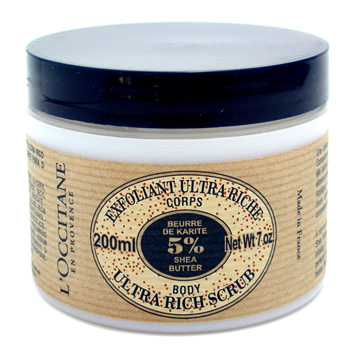 Believe it or not, I got back from vacation with my skin dryer than ever.  All I wanted to do was bathe in a vat of oil, but first I had to get rid of dead dry skin that had accumulated over the two cold weeks.
I was lucky.  L'Occitane's Shea Butter Ultra Rich Body Scrub was on hand.
This is the most luxurious scrub that I have ever used.  It literally feels as if they took L'Occitane's Ultra Rich Body Cream and blended some scrubby bits in there.  The scrub sits like butter in your hands, and once you emulsify it, you can rub it easily all over your skin.  Formulated with 5% shea butter and wheat germ oil, this works to moisturize as it gets rid of flaky dry skin.
After scrubbing to my heart's content, I pretty much felt as if I didn't need to moisturize – my skin felt that good.
Get this at your local L'Occitane store for $38 – it is a winter must-have.